But there's zero risk to it, though?
There's also zero risk to losing purchasing power via flushing paper notes down the toilet, it's still not a good option though, is it?
I don't understand that. I'll leave it there.
Just opened a new account with VM.
Debit card arrived in 48 hours - telephone support to setup was exemplary……
Haven't been able to login despite having all the necessary details. Irritating. Seen this today. Doesn't help - and doesn't inspire confidence in the IT department either.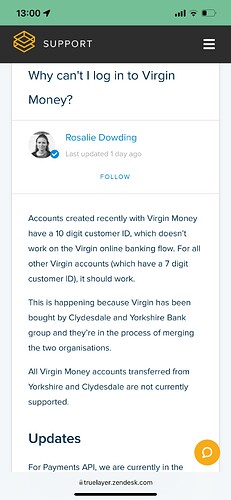 Had great trouble with access when I opened mine in Feb tbf.
Switched them away in the end so don't have to worry any more lol
Yes, the Virgin Money account you've just opened is really running on the ex-Clydesdale and Yorkshire backend systems.
You should be able to login via Open Banking apps by selecting Clydesdale (if your sort code begins 82) or Yorkshire (if your sort code begins 05) instead of Virgin Money.
Equally, once the integration is fully complete, the plan is to turn off the old Virgin Money platform and run all accounts on the ex-CYGB platform which is supposedly better IT. This is with the exception of credit cards, where Virgin Money apparently had a "better" platform, so that element of their technology is being integrated into the CYBG banking platform (called iB) in preparation. Older savings accounts with Virgin are supposed to be slowly migrated over time.
I've also heard of the system seemingly remembering old customers from years ago, even if they had closed all their accounts, so if you ever held a Clydesdale, Yorkshire or B account you may need to login with those details now.
I have some Virgin Money savings accounts on the old platform (which were good rates at one time, less so now so I only have a few pounds in them) which require a different login to the Virgin Money current account. I also have two separate CYBG profiles, as one was once Clydesdale and one Yorkshire. Once set-up, though, it all seems to work fine for me (famous last words)!
It was easier for me to open a new Virgin Money account as I still had a B account at the time.
Hmm

I may need to lean on you a bit for the steps involved here….
Largely the problem. It remembered me but I couldn't remember any details at all so I kept hitting the wall…. Hence a phone conversation got me the new account…
Ah, yes, I suspected it was that.
You did once have a B account, if I recall correctly (I remember discussing the jumping chicken animation)!
Ironically, if you had just kept it open, it would have "morphed" into a Virgin Money account without you having to do anything (mine did). Oh well!
Hopefully this eventually pushes the NS&I bond pool up
Their switching offers have all been unappealing and there is underlying issue of dealing with CYBG; the old VM were at least okay to deal with.
As they say in Dragon's Den: I'm out.
And I find the responsiveness of their app, absolutely shocking.
I'll be passing too.
It would mean an extra £1.60pa interest per £1,000 saved, assuming VM rate and my highest rate savings account rate stay the same for 12 months.
Agreed. Though, strictly, I reckon it's Dragons' Den.
(Well…… it is Saturday

).
Indeed - the Den of the Dragons

I prefer Shark Tank myself

Virgin have now increased the interest rate on their linked savings account to 1.56% AER (1.55% gross per annum variable).
Be interesting to see if Chase react.
VMs savings offering is up to 25k.
Whilst VM is also a current/savings combo, I suspect that Chase are more closely monitoring US competitor Marcus also with a 250k limit.
I'm not sure they are that bothered about Marcus in itself.
In my view, Chase want a market leading rate to buy customers.
While their is a £25k limit with Virgin, most sadly don't have that much in savings. The fact their headline rates is now not the market leader for the first time since their launch will thus be interesting for two interrelated reasons: if they change rate and how not being market leader affects their customer balances. How sensitive are customers to rate changes?
For those with higher balances, Chase are probably looking at Yorkshire building society which offers 1.38% on higher balances and there are several others offering over 1.3%.