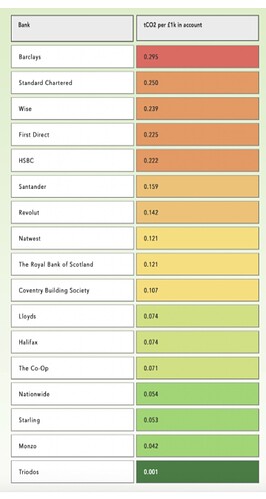 Thought some may find this interesting. Some takeaways:
Triodos lower than all by a distance - making them a good place to leave deposits if this is an important issue to you.
Interesting to see e-money licensed banks high - perhaps as your deposits actually sit with the likes of Barclays (Wise do use a Barclays sort code)
Interesting to see one Building Society lower than another (Nationwide to Coventry). Generally interesting that Nationwide are so low given their reach.
Interesting to see Lloyds etc not a great deal higher than the Coop who market as being environmentally friendly (despite them still being on the lower end).
Monzo and Starling low, presumably due to not lending or investing a lot generally speaking?
Barclays & HSBC well out in the lead in the "dirty" stakes.