Given that iPad apps are omitted by quite a few fintechs, I wanted to start a thread on iPad apps to discuss the apps available from those who do have one. Gauge how many of us use iPad apps and if we'd like to see others create one too.
This is also a little test of tags feature to see how they can be used for threads like this.
Before I begin, I'd like to reference this chart from Starling Bank that outlines the different stages of an iPad app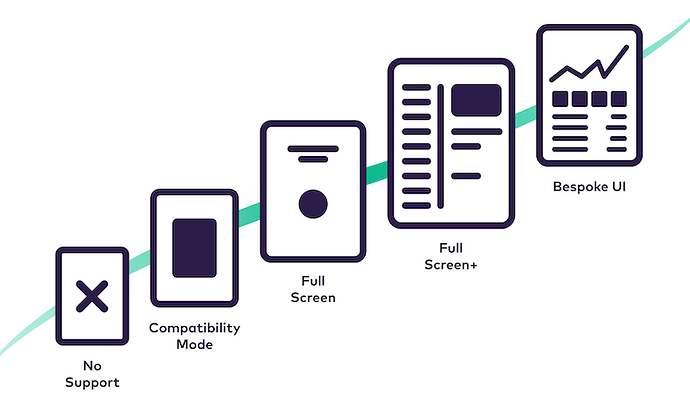 Personally, I wouldn't be satisfied settling for anything less than Full Screen+. As lovely as a bespoke UI would be, Full Screen+ gets the job done, and does it quite well.
I'll start by summarising a few.
Atom: a blown up version of the iPhone app, but at least it exists. I preferred the old app on iPad. I don't use it much on my iPad because more often than not when I'm accessing it it's to withdraw to my Monzo account so I'll likely be on my phone for that.
Atom is a Full Screen app per Starling's chart.


Starling Bank: like Atom, a blown up iPhone app. Nice to have though and is better than nothing. I don't currently use Starling so can't comment beyond that. But purely from screenshots I would personally like to see it be better optimised for iPad and take some cues from their online banking interface. That would make Starling a bit more compelling to me.
Starling Bank is a Full Screen app per Starling's chart.


Freetrade: Now I really like Freetrade's iPad app. It's native and follows Apple's UI guidelines. It's a joy to use. Because of that I use Freetrade more on my iPad than on my phone. Not just because my iPad is my most used device, but because the app is actually nice to use on it.
Freetrade is a Full Screen+ app per Starling's chart.

I think, when an iPad app is done right, it's a great tool for your banking needs, and I would like to see others adopt them. Blown up iPhone app's are better than nothing, but I'd really like them to follow in Freetrade's footsteps here. Or even push beyond them with a bespoke UI.
A web app would be a compromise, but I think where those seem to fall short, is that, with the exception of n26, you still need your phone with you to authenticate, which isn't going to be an obstacle with a dedicated iPad app.
Please share and discuss any other fintech iPad apps you use below, or whom you would like to see make one, whether or not you use them and add tags for them.
I'd be happy for the discussion to expand into legacy banking apps here too, because a few do make some good iPad apps that take full advantage of the real estate.