I know these are a bit flakey, but thought it's worth a share nonetheless…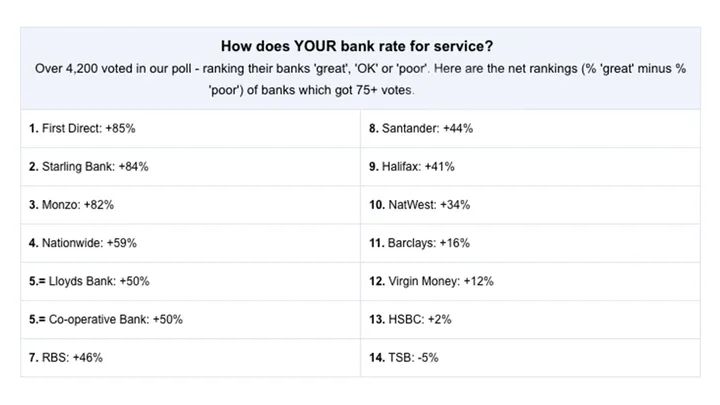 Link - Redirecting...
The ones you'd expect to be low are relatively low and the ones you'd expect to be high are relatively high, in general.
Co-op Bank does much better than in the IPSOS Mori survey, and so does RBS. Perhaps MSE voters are more accurate than those asked for the official survey - I always get the impression that many brands in that survey end up with unfairly low scores.
Utterly meaningless, does my head in that these things exist.
The manner in which the question is posed is flawed too - it relies on the customer using one bank, when the MSE website itself encourages diversification. I myself have my wages paid in to Child & Co and that's the debit card I carry, but most bills are paid from my Santander 1-2-3 Lite, and my excess balance lives in my Club Lloyds so if I need to access more than £100 that's where I'd go to get it. I also have a handful of Halifax accounts which are used mainly for paying off credit cards each month. None of these are the account which I detail when signing up for credit products - which is the Natwest account I've had since I was a child.
I've had to deal with all of their customer services so I'm actually in a decent position to rate service, and yet I can't.
For proof the whole thing is nonsense - RBS and NatWest are, to all intents and purposes, the same - same customer support, same app, same product range (save for any legacy stuff, which is a tiny amount of their overall book), and yet there is a 12% gap?
I can't figure out a legitimate reason why Halifax's service might be considered 9% worse than Lloyds either. They have different products but they use the same call centres, the app is the same… just nonsense IMHO.