Child & Co? Pah! I'm still using Green Shield Stamps
Green Shield Stamps?
You were lucky - I come from poor stock and we could only aspire to the pink stamps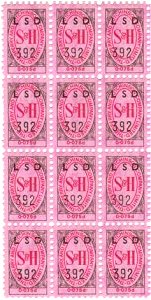 I'm far too young to understand what on Earth either of those things are

Some kind of coupon?
It's ok, @Lonford, don't fret. It's from way back when times were really tough - not like now…

After a quick Google they seem to be like an old fashioned version of Clubcard, but with points (coupons) that could be spent at a range of retailers within the network? That sounds pretty neat!
The were like Nectar Card points, but in stamp form. You stuck them in a book and saved up for items in a catalogue.
You could buy items with a mixture of cash and stamps. Eventually the stamps were phased out, the catalogue went cash only and became… Argos!
Wow, I had no idea they were the origins of Argos! Pretty interesting then that Tesco were seemingly one of the pioneering members of the scheme (so, as I say, you could almost think of the stamps as vintage Clubcard points!), the retail manifestation of which, Argos, went on to be bought by arguably its main competitor Sainsbury's in 2016!
How I loved the 1970's as a child, sticking those stamps in the book. Life was so much simpler back then, no mobile phones, no personal computers, just a 3 day week, constant workers strikes, piles of uncollected rubbish in the streets, bodies not being buried for weeks, basically, utter depression for most adults whilst us kids just dashed around on our Tomahawks and Choppers. At least we had a hot summer in '76.

Not to forget toasting bread (or crumpets) on the fire (with toasting fork) and spreading dripping (the proper stuff from Sunday's roast dinner).
You were lucky you got proper dripping Graham, I sometimes had to go to school with just plain old lard spread on my bread. I tell folks that and they just don't believe me

Yeah, I accept that must have been tough, however…… I do recall a regular ritual of trimming the side of a cornflakes box to fashion an insole to cover the hole in my shoe…FACT.
It lasted till I got to school….
The Co-op also had their own savings stamps, -they were still going well into the 1980s, maybe longer.
Do you remember Embassy cigarette coupons? We never had those because my parents smoked Park Drive.
My Dad God rest his soul, smoked Senior Service. He also used to roll his own using a proper cigarette rolling machine. I do remember the cigarette coupons, but clearly, I was far too young to smoke and I've never smoked anyway.
Lol, we've gone super way off topic

Don't forget Tiger Tokens (Esso). My parents were able to collect an entire dinner service and glassware from dad's company car fuel, which helped as they started a family and money was tight. I saved up for a snazzy cassette holder, and then a clock radio for my bedroom.
I think this calls for a "Nostalgia" thread, don't you?

Oh dear. I thought t'was only me who suffered thus…

I'm filling up, here…
Definitey, that way, I can even mention Evel Knievel without getting told off

Oh, and I've just watched the Tomorrow People on Youtube, the opening titles would scare the crap out of young kids today.
Are you guys from the Stone Age?!
I thought I was old (mainly because some 18 year old who joined our squad on Fortnite once called us 'kinda old')
But then I read this
And now I don't feel so old anymore!