Tesco seemed to have launched a new in store banking facility this week. I believe they have launched in Tesco Kensington & Tesco Baldock (source:Linkedin).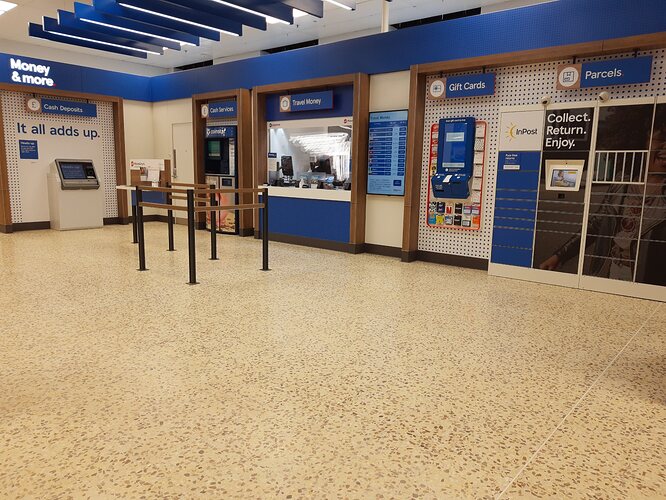 From the right to left in Baldock there is:
Information Touch Screen (out of shot, and I did not look at it to see what information is available)
InPost Parcel collection / dropoff location
Gift Card Kiosk
Travel Money Exchange Rate screen
Travel Money facility (was originally elsewhere in the store, and I have obscured the staff member working there)
Coinstar cash conversion machine
Cash Deposit (into your bank account)
That last item is interesting - the ability to pay cash into a bank account. For now it has a sign saying "Heads-up - You'll soon be able to pay cash into your bank account right here".
Given Baldock has lost both bank branches in the last few years, and is now limited to a Post Office, this is interesting for Tesco to offer a facility for paying cash into a bank account (although it's not yet clear whether it's cash and cheque, and whether or not there are any service fees).
From Linkedin, it looks like Tesco Kensington has a very similar setup (shown here)