Has anyone asked Chase for the full list of category/MCC codes which are excluded from their 1% cashback offer?
No, but could try it (edit - I've asked).
Got my card today. It had to be near my phone to activate, apparently. All very futuristic
You won't be able to earn cashback on anything you buy from the following types of merchants.
Account and prepaid card funding
Antique shops, including repairs and restoration
Art dealers and galleries
Bail and bond payments
Bank fees such as product fees, promotional merchandise, financial consultations and loan fees
Boat dealers
Car and van dealers - new and used sales, services, repairs, parts and leasing
Cash withdrawals
Cheques
College and university fees
Cryptocurrencies
Debt repayments
Deposits
Gambling transactions
Government services not classified elsewhere
Hospital fees
Insurance sales, underwriting and premiums
Intra-government purchases
Money orders
Money transfers
MoneySend transactions
Motor home, camper and trailer dealers
Motorcycle shops and dealers
Nursing and personal care facilities
Pawnbrokers
Precious metals
Professional and financial services
Real estate agent and management fees
Savings bonds
Securities — stocks, bonds, commodities and mutual funds
Stamp and coin stores
Tax payments
Timeshares
Travellers Cheques and foreign currency
Not that I'm bovvered, no FOMO on my part, but would it have been easier to list exactly what they do pay cash back on?

Well, I can confirm they pay cashback on beer and kebabs, so I'm happy enough.

CS came back almost immediately with this
Here are the list of MCCs that are excluded from cashback:
MCC 4829MCC 5511MCC 5521MCC 5551MCC 5561MCC 5571MCC 5592MCC 5932MCC 5933MCC 5971MCC 5972MCC 6010MCC 6011MCC 6012MCC 6050MCC 6051MCC 6211MCC 6300MCC 6513MCC 6532MCC 6533MCC 6536MCC 6537MCC 6538MCC 6540MCC 7012MCC 7800MCC 7801MCC 7802MCC 7995MCC 8050MCC 8062MCC 8220MCC 9223MCC 9311MCC 9399MCC 9405MCC 9406MCC 8999
Edit: for reference, Revolut is currently 4829 wire transfers for topups. 6012 financial services is the code eg for settleup and comparable
What about ahem, 'Adult shops', or are they classed as Nursing and personal care?

App continues to crash every time I go onto it, a reinstall takes me to verifying my ID -despite me getting a text saying it's been done. Poor.
is this Android or iOS? What o/s are you on? (on either)
Have you tried clearing the cache and force closing? That worked for me
Thanks for asking. I am impressed at them replying so quickly
iOS but im new to it , can you force stop on there ?
The Planned Work screen is incredibly annoying when it pops up every single time you open the map.
Something like that should really be cached and remembered
Yeah, getting through the CS chat was painful with it popping up between every screen…
There's still a use for my credit card then

After asking if anyone had got their card yet, mine arrived today.
Quite impressed with it tbh

Now, all I have to do is try and get over my affinity to Monese and Revolut and give it a proper try out.
Just to update you guys, my invite code finally arrived at 11.30 this morning! It took them over an hour to verify my details, which seemed a lot longer than many others have experienced, and that combined with the vague 'please head to the app now for an update' SMS gave me a bit of a fright that they'd rejected me but nope, application approved and I'm in!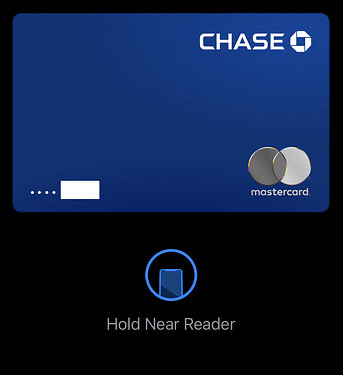 First impressions: the app feels very barebones compared to Monzo and Starling, as you'd expect at this stage, but I really like the colour scheme and overall UI. There are a lot of fintech features that I do find myself missing, which I'll be sure to pass on to them via live chat since I expect the team to be especially receptive to feedback at the moment. I find the knowledge that there's a 24/7 customer support line that actually isn't crap really reassuring personally. I'm looking forward to receiving my physical card in the post next week!
I contacted their CS this evening requesting they add a "known by" name to their records; while my full name is Robert I'm known as Rob by everyone. They did just that. It took about 15 minutes and was handled very efficiently, professionally, but friendly in tone.
A much better experience than I've ever received from the drones working in the Starling CS team. That said, I guess Chase isn't that busy just yet.
Just looked up my Chase virtual card BIN to see what Mastercard tier the card was - I saw @Seb mention on the Monzo forum that the physical card must be World Elite since it has the silver MC logo, which is a fun bit of trivia I didn't know, and I was wondering whether the virtual card was World Elite too - and it came back as WestPac Australia…

I guess JPM must've acquired the BIN off them for Chase UK (if that's how those things work?!).