Well I couldn't see a general thread for FD, so here it is!
I'll start.
fDesign
I note they've ported fDesign over to the same platform used by the HSBC customer studio. Now, whether this means things will actually start to happen who knows.
But, it's a start!
Perhaps from this we will finally start to see things long promised such as coughtransaction notificationscough
I have my mortgage with first direct. The fixed rate and the overpayment (unlimited) flexibility was second to none at the time.
Application process? Slow (signatures in the post and the like) with rafts of paperwork about other products I had 0 interest in.
I'm also not best pleased with it being one of my only banking providers to have a shocking track record wrt the environment - but herein lies their relevance in the deep pocketed product offering…
I too have this reservation but I'm not sure what the truly better alternative is really. Tridos at guess, perhaps Algbra.
I read an interesting report (it's quite old) from Friends of the Earth that 6k saved with Triodos as opposed to ABN AMRO (imagine HSBC or Barclays would be even worse actors) is a similar equivalent to keeping your car on the drive for six months (due to the "accelerator" affect that investment into new fossil fuel projects has vie a vis investment into sustainable projects).
I do think Triodos stand out in terms of
a relatively long-standing lending history of lending to projects that meet a certain criteria. But I'm aware some people have raised ethical concerns about some lending in SE Asia.
Tandem have green credentials from a takeover/merger of/with a company offering cheaper mortgages/loans for energy efficient homes/projects - its savings only from a depositors perspective. From what I can see of Kroo and Algbra it doesn't go much further than tree planting/offsetting but I might be wrong…
It was jarring applying for my loan having to send stuff over to first direct. I like them as a bank. Very nice to have as a back up
Decent Move here I think. I really do wish they'de hurry up and put budgeting in, alongside notifications. These are at least two of the things keeping me with their "bigger cousin" HSBC currently, but the look and feel of FD is super nice.
Has anyone got any recent experience applying for FD with a low personal income (but high household income)?
I know they used to be picky and insist on a minimum deposit or a chunky fee, but that all seems to be history now…
Low income and household. Not an issue anymore
I've had a first account since 2008, moved mortgage to them in 2013 and kept it there since. They are always helpful on the phone if needed and the mortgage rates have been excellent - got a 5-year fix with no fee 3.99% in May this year. The renewal process is very easy now, no need to physically sign or post anything. Also was able to make large overpayments easily with no penalty. I still pay my salary in there but I don't use them as my main spending current account, and I pay self employed income into a Starling business account. I would love for them to bring in instant transaction notifications. Overall I do really like them. I also have current accounts with RBS and Monzo.
I might go back to them from HSBC as well if and when notifications are up and running, especially with HSBC's customer service continuing to deteriorate - after removing the separate UK call centre contact number for the Advance account, they've now taken away the secure messaging facility as well.
I saw a post on Trustpilot the other day from FD customer services suggesting notifications are in the testing phase. I'd like FD to offer Balance after Bills as well, but at their current pace of change I suspect that will come in some time around 2055.
I joined First Direct 6 months ago.
I'm hoping for notifications soon too.
This gives me some hope after a recent engineering works….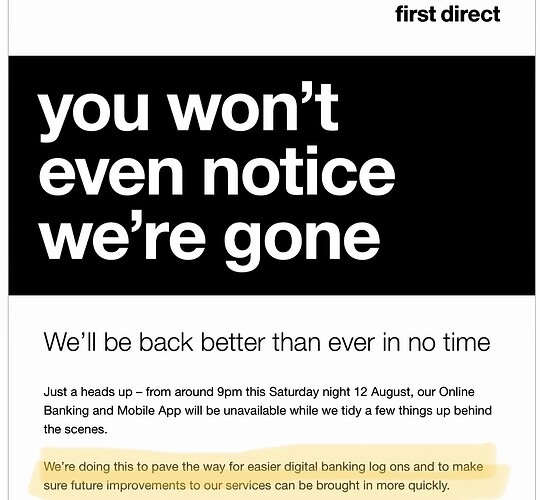 Like many others, HSBC removed their secure messaging option in favour of a chat function during COVID
Which contact number are you referring too? In my experience, regardless of what number you call, the call is routed to the "right" call centre team regardless
These days you also do not need to call them to set up the mobile banking app.