Go on then, whose going to sign up for this? Has anyone keyed in their 'deets' yet?
Easy @Breezy payments. There's a conspiracy here somewhere.

I'll keep an eye out for their launch and see what it's like. Been a few interesting new e-money institutions popping up recently with really nice and polished offerings.
The card graphic looks cool. If the real card looks anything like that then I'll be suckered into signing up.
Only free for 12 months according to the ad, so fee paying structure TBA.
Definitely not.
Won't be providing them my 'deets' either

Yes, about 14 months ago! They are equivalent of financial vapourware, they give ZERO details on their site, other than the fact that the account will be tiered in free and paid for, that you will pay a supplement for using it abroad and you will get a funkily designed card.
That's it.
They blamed Covid for not launching, and then blocked me on FB when I asked what the features of the card would be.
Paid? Not going to work in the UK without major perks and competitive pricing. Large population size = economies of scale and razor profit margins here
I've just been looking at the Frost website and watching the plane graphic. Notable it doesn't land on the UK. I wonder if that's because our borders are shut to all non essenstial traffic?

I see absolutely nothing appears to have happened with this outfit. Their website is still up and hasn't changed at all. I wonder if they'll ever launch?
How long has the landing page been up?
I'm sure Starling and Atom had theirs up for a good 2 or 3 years before we actually saw anything progress.
Maybe when hell freezes over.
They sent me a sarky message when I queried this on Facebook, where they seemed to have invested a huge amount on advertising. I asked for their fee structure and was told that all would be revealed "by the end of 2020", blaming Covid for the lack of a launch. I just looked at their (previously active) LinkedIn page - latest message is 3 months old. Latest post is 8 months old. A massive 5 employees - three of whom have been in post for 4 months, or less and the founder (Pawel Oltuszyk) works full time…for a firm of solicitors.
They are not going to launch anytime soon. The very essence of financial vapourware.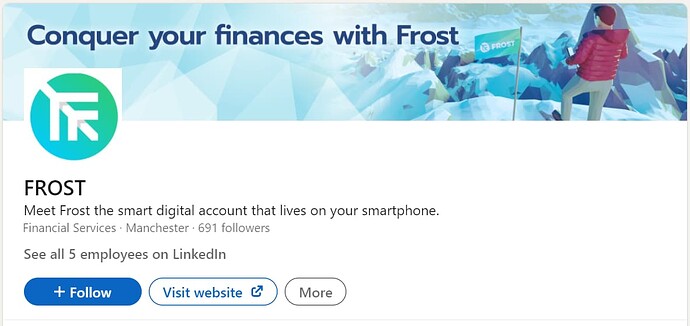 Judging from what I've seen on the Monzo forum, it seems this outfit is launching on 04/05/22.
Will you be suckered into signing up?

I think not

Maybe. I might wanna add that card to my collection, but don't think it's something I'd ever use.
Also, it's visa, and those are getting hard to come by lately in a debit, so might have a use just for that alone. Nice to have a northern competitor to all the London ones too. Different background and insight might result in a better tailored product for those of us outside of London. Card looks really nice though.
Are they? I can't keep up with who's issuing what now!
The frost card is very nice though! I like that they've done the same as TSB with the holographic Visa logo!
Everyone seems to be moving to mastercard!
RBS and NatWest are now Mastercard. The new barclaycards are mastercard and there are rumblings the rest of the brand, and Barclays debit cards will follow suit too.
Very true!
Ooh, i hope they'll do them similar to barclaycards new designs - with that nice blue🤤
Visa Debit is much easier to come by than Visa Credit… Mastercard have a way bigger presence in the credit card market - in terms of cards available to new customers Mastercard is the badge on allcredit cards offered by LBG, Natwest Group, Santander, Virgin, TSB, JS, Tesco, New Day… probably a load of others I've forgotten about. The only brands issuing Visa credit cards exclusively are Nationwide, The Co-operative Bank and Vanquis.
Are there? Barclaycard have issued Mastercards on and off for decades. The bulk of their cards have always been Visa tho.
According to some old colleagues who still work there, yep! Might be outdated info now and perhaps things have changed, but that's the last I heard. Was about a year ago now.
Has anyone any idea what their offer actually is ? That's the same page that's been there for ages.