Sign up for a £5 sign up bonus
Already a member and earned, and received, over £1,250 over the years as a result.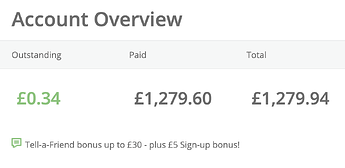 Recommend taking a look.
Impressive


And I thought I'd done well with just over £200 this last year or so

Along similar lines, I've added a referral link for Quidco. I've earned almost £2,700 over the years with them.
Well I have to hand it to Topcashback. Just had the quickest payout of any payback I've earned yet. Joined BT on a 2 year full fibre (FTTP) contract just 3 weeks ago and the money has been paid, almost £90. The last time I took out a contract with BT in 2017 through Topcashback, took almost 3 months to pay out. Things have clearly moved on since then!
Another TopCashback feel good story

So, car insurance renewal time. Renewal quote came in from my insurer, Direct Line, £191 fully comp for the next year.
Sat down, ran my details through a comparison site, cheapest deals coming up at around £154.
Went onto TopCashback and searched for car insurance deals, clicked on Aviva, offering £80 cashback on a new policy on condition that motor legal cover was taken. Taken to site and after inputting all details with the inclusion of motor legal cover at an additional £29.99, final quote is £211. Take off the £80 cashback and the cover is actually £131 fully comp for the year with Wife included on the policy. I get more annual mileage on this new cover too, not that I'm doing any more than 5k per annum as it stands.
So, another financial win. That's £165 back in just two months if I include my new BT contract deal.
It's a win if they pay up the cashback.
Tbf, I've only really had GoCompare and Go Outdoors decline my cashback, so sounds like a good result

Prices I can only dream of…
One of the advantages of being more advanced in years lol
TopCashback have just updated their app. The menu bar is now at the bottom. Very Amazon/Ebay inspired.
And indeed the cashback did pay out! It took a whole 3 months, but I got the cashback which after Aviva charged me an extra tenner on my policy after I recently changed my car for a much newer vehicle, my year premium thus effectively worked out at £142 fully comp. I've gone from a 1.9 TDI at £210 a year VED, to a 1.0 petrol car with just £20 tax.
Thought I'd share my latest Topcashback story. I've just acquired a cat via a rehoming site. She's four years old and I thought it prudent to get some insurance. Went via Topcashback site and took out a Tesco 'Extra' policy for £52 on a one off payment for 12 months cover. For purchasing via Topcashback, I will get £42 back within 3 months.
Of course one always has to wait for the money to pay out, but I've never not had a single cashback fail to pay out so far.
A good deal, indeed.
I was going to say "Puuurrrfect". But I won't.

I bet you're feline fine after doing that

And there was me thinking I'd come up short……

I still find it somewhat bizarre that a policy that cost me £52 qualifies for a cashback of £42. I'm obviously not complaining! The level of cover is also quite superior to some of the other policies available.
I once bought a 3-year subscription to NordVPN and got 112% cashback from Quidco. Literally free money


Wow is worth signing up to never used cash back sites.
Very occasionally it pays an okay chunk out, mainly important in regards to mobile usage.
Would you say any of the particular cash back sites is best to sign up for?